A 21-year-old Russian serviceman asked a woman to forgive him for shooting her husband while he was riding a bicycle.
Sergeant Vadim Shishimarin confessed to killing a civilian, Alexander Shelipov, when Russian soldiers entered the village of Chupakhovka four days after the invasion.
He pleaded guilty to murder on February 28, when the trial in the Kyiv district court began on Wednesday.
This is the first war crimes trial in Ukraine.
Ukraine's live news: Putin will not release vital food supplies until sanctions are considered
On Thursday, a Ukrainian prosecutor asked the court to sentence him to life in prison for killing a 62-year-old man.
Shishimarin cut off a neglected figure in court, dressed in a sports suit and with his head shaved.
Addressing the widow of Mr. Shelipov Catherine, the soldier said: "I admit my guilt … please forgive me."
The Kremlin claims it has no information about the trial, and that the lack of diplomatic representation in Ukraine means it cannot help.
Giving evidence, Ms. Shelipova said she heard gunshots from their yard on the day of the murder.
"I ran up to my husband, he was already dead. A blow to the head. I was screaming, I was screaming like that," she said, her voice trembling.
Ms. Shelipova told the court that her husband was unarmed and dressed in civilian clothes.
She said they have a 27-year-old son and two grandchildren.
"Shot in the head while cycling and on the phone"
Ukrainian prosecutors claim that Shishimarin and four other servicemen stole a personal car to escape after their convoy was targeted by Ukrainian forces.
When they arrived in Chupahovka, about 200 miles east of Kyiv, they saw Mr. Shelipov riding a bicycle and talking on the phone.
Prosecutors said Shishimarin ordered another soldier to kill him so he would not report their presence.
He is said to have fired several shots through the open window of the car at Mr Shelipov's head.
He died a few feet from his home.
Asked whether he was obliged to carry out an order that was tantamount to a war crime, Shishimarin said no.
In court, he said: "I fired a short burst, three or four bullets."
The soldier said he is from the Irkutsk region (a region in Siberia) and is the eldest of five children.
Ms. Shelipova said she would not mind if he was released to Russia as part of an exchange of prisoners to take "our guys" out of blockaded Mariupol.
The trial is taking place as many Ukrainians hope that Russia will hand over captured soldiers as part of the exchange.
Some high-ranking lawmakers in Russia have called for the Azov Regiment, which was part of Mariupol's last service at the Azov Steel Plant, to be brought to justice.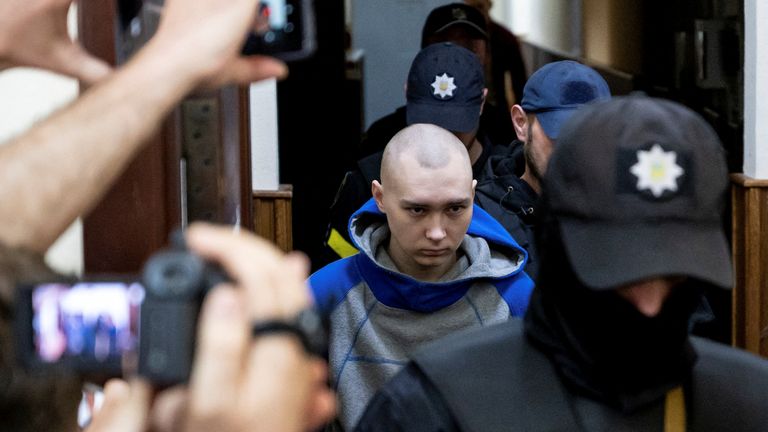 The assassination of Alexander Shelipov marks what Ukraine and much of the Western world consider the tip of the iceberg.
Ukraine has said it has identified more than 10,000 possible war crimes.
Russia continues to deny attacks on civilians or involvement in war crimes.
https://news.sky.com/story/ukraine-war-russian-soldier-vadim-shishimarin-asks-for-forgiveness-as-he-faces-widow-of-man-shot-dead-on-his-bike-12616988