Interior Minister Priti Patel will tell MPs that "we are not doing politics through the direction of the crowd", urging them to support the new bill on public order.
She is trying to restore the measures that are there was previously blocked by the House of Lords as part of the Bill on Police, Crime, Sentences and Courts.
These include the introduction of a new offense of obstruction of major transport networks, which provides for a maximum penalty of imprisonment for up to six months, an unlimited fine or both.
Interference with key national infrastructure – such as railways, roads and printing presses – will also be a criminal offense, punishable by up to 12 months in prison, an unlimited fine or both.
"Amnesty International says the interior minister is assuring plans for a peaceful protest, while" Fair Courts "says the government" seems intent on destroying the right to peaceful protest, not defending it. "
On Monday, she opens the debate on the bill in second reading in the House of Commons, Mrs. Patel He is expected to tell MPs: "From day one, this government has put the security and interests of the law-abiding majority first … but lately we have seen an increase in criminal, destructive and suicidal tactics – a selfish minority at the highest level.
"Their actions are diverting police resources from the communities where they are most needed … and we see parts of the country stopping … This is reprehensible behavior and I will not tolerate it."
Under the bill, police will also be empowered to actively stop and search people to confiscate items designed to "secure" such as glue or bamboo structures designed to obstruct police.
Closing tactics, such as demonstrators sticking to roads or public transport, have been repeatedly used by groups such as Insulate Britain and Just Stop Oil.
Courts will also be given new powers to issue injunctions to prevent serious violations that will force those who repeatedly commit the violation to wear an electronic tag to ensure they are not in a specific place where they can commit a "protest crime". ".
Ms. Patel adds: "I will not stand aside and allow antisocial individuals to continue to cause suffering and chaos to others. The public order bill will give the police the right to take more action to protect the people's right to life.
"No matter how fervently we believe in the case, we are not doing politics through the direction of the crowd in this country … I will not interfere with supporting the police and defending a law-abiding majority, and this is what the Law on Public Order does."
Read more:
Noisy protesters could feel the full force of the law after the new bill was approved
But Labor's shadow interior minister, Yvette Cooper, said the bill was "inadmissible on all counts".
She said it was too "widely depicted" and could punish passers-by or peaceful protesters.
She said Labor's proposal to speed up bans when vital services are threatened with disruption would be better.
"It's a lost opportunity for a smart approach, and things are going wrong.
"The Minister of the Interior is simply reworking the well-thought-out measures from the police bill, which has already been rejected by the parliament.
"Tomorrow we should have a second reading of the long-awaited bill on victims with measures to combat rising crime and falling criminal prosecution; instead, the interior minister is letting everyone down."
Alan Hogarth, head of Amnesty International's policy and government in the UK, called it "outrageous" that Ms. Patel denigrated the peaceful protesters as a "crowd".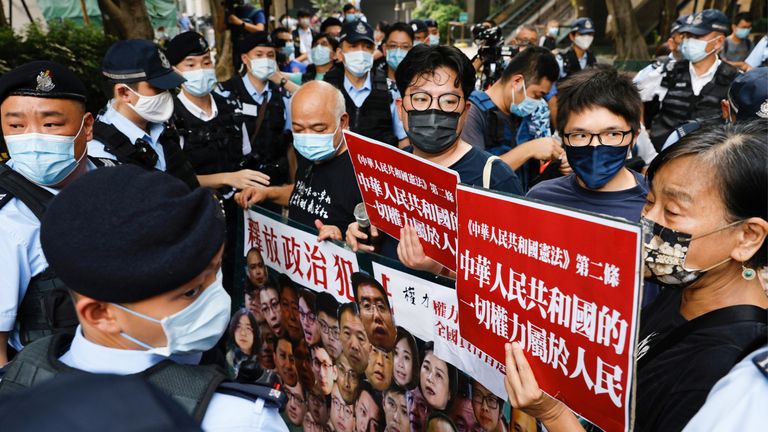 She added: "At a time when demonstrators in places like Moscow or Hong Kong are being hailed for their courage – including members of our government – it is incredibly depressing that Priti Patel insists on these repressive laws."
Norman Reimer, executive director of the Fair Courts group, said of the latest proposals from the Home Secretary:
Meanwhile, Extinction Rebellion (XR) has already announced plans to "bring millions of people out into the streets" in response to the new bill after it was announced in the Queen's speech earlier this month.
https://news.sky.com/story/priti-patel-to-urge-mps-to-stop-using-mob-rule-and-support-new-policing-powers-12618619