The pressure on the Prime Minister is growing due to the parties that close on Downing Street before the release of Sue Gray's report at the party gate.
Number 10 expects to receive the final investigation report on Wednesday. It is expected to be deeper than that There is a police investigation which ended last week – and will include the names of violators.
Criticism of Meter's investigation intensified after photos of Boris Johnson, who was toasting his colleagues on Downing Street allegedly on November 13, 2020, during the second national closing of England, appeared on Monday.
Police decided not to fine the prime minister for the event, but at least one other person was.
Political center: Updates live before the Sue Gray report is published
Mayor of London Sadik Khan was among those who urged the Metropolitan to explain why Mr Johnson received only one fine for violating blocking rules during his 56th birthday.
On Tuesday, a police overseer confirmed that he had received a complaint from the Liberal Democrats against the Met investigation, urging them to establish how Met detectives concluded not to fine the prime minister for the November 13, 2020 events.
The former chief superintendent of the met Dal Babu told Sky News it was "broken" the prime minister was not fined for the event.
Some alleged failure of Met has further pushed Sue Gray's report to reveal more details.
Deputies, including some conservatives, accused Mr Johnson of misleading parliament after he denied being at a party on 13 November following a direct question about his involvement on 8 December 2021.
Veteran Conservative MP Roger Gale said it was a "resignation issue".
Cost of living indicators are transferred
In what some see as an attempt to reduce the damage from Sue Gray's investigation, the chancellor is expected to introduce financial aid into the cost of living crisis on Thursday – promoting the announcement in June.
Another photo, obtained by The Mirror, appeared Tuesday night in which a man is standing at a table on Downing Street with nine bottles of wine and prosecco, as well as donuts and miniature cakes.
It is believed that the meeting was a way out for the then official spokesman for Prime Minister James Slack on November 17, 2020 during the second national closing.
It is estimated that between 30 and 40 officers were present, and the incident was not investigated by police.
Mr Johnson is believed to have encouraged staff to "let off steam" if they worked hard during the pandemic.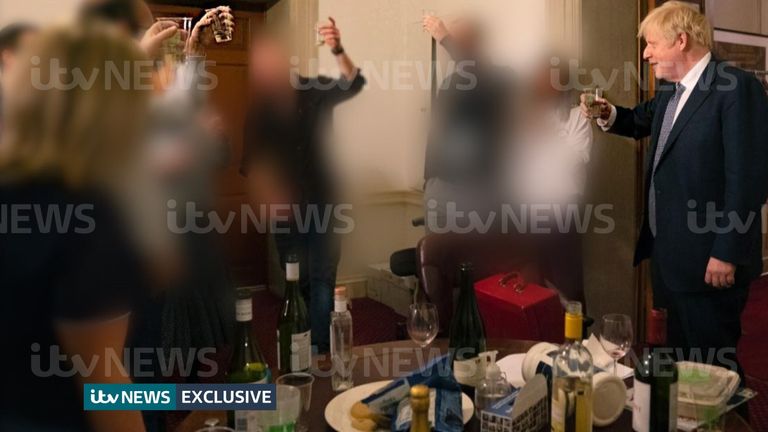 "Violation of regular rules"
Three Downing Street insiders told the BBC they had witnessed regular violations during the coronavirus restrictions, and weekly drink invitations to the press service were called "Friday when drinking wine".
Party remnants were left overnight for employees who arrived the next day, insiders said, recounting crowded gatherings where people sat on each other's lap.
One said they felt they had Mr. Johnson's permission because he didn't tell them to break the scenes and "grabbed a glass for himself."
It is said that the guards had to send an e-mail on Downing Street, instructing people to stop the activities.
Downing Street said it passed all photos and evidence to the Sue Gray Police Department and the investigation.
A spokesman for the prime minister said he could not "comment on the claims, given that Sue Gray's report has not yet been published."
"You will hear from the prime minister as soon as this happens, so I am limited in what I can say," he added.
https://news.sky.com/story/partygate-pressure-on-pm-mounts-over-no-10-lockdown-parties-with-sue-gray-report-expected-today-12620813