People could be allowed to vote for giving neighbors permission to build in their area as part of new reforms.
The government is talking about a new bill to raise and regenerate that shown in a speech by the Queen read by the Prince of Wales on Tuesday, amendments will be made to the planning system to "give residents more participation in local development" and "give communities a louder voice".
It is clear that residents will be able to vote on whether to allow planning for the extension of existing houses on their streets, and will be able to decide the rules governing the layout and materials used for new buildings.
Earlier proposals to reform the planning system, which would make it difficult to block new construction, have been paused amid strong Conservative resistance.
Political Center: Trass rejects EU proposal for Northern Ireland
Previous plans stipulated that local councils in England should designate land in their area as protective, for renovation or for growth – with construction projects that meet agreed plans in growth areas receiving automatic initial approval.
The idea of ​​local quotas for the construction of houses was also proposed, which would allow to build much more houses in what could be described as a county of the Torah.
Many Conservative MPs believe that the issue of planning has cost them votes recently.
This was one of the reasons why the party lost to the Liberal Democrats last year in by-elections in Chesham and Amersham and lost Sir Ed Davy's party seats in a number of former central districts in this month's local elections.
Speaking during a debate in the House of Commons on the Queen's speech, former Conservative Housing Minister Robert Jenrick warned that the government would fail to finalize a manifesto of 300,000 homes a year under new "mile mile" plans.
The Conservative Party's winning manifesto of 2019 states that the Tory government "will continue our movement towards our goal of 300,000 homes a year until the mid-2020s".
It continued: "This will allow us to build at least another million homes of all possessions in the next parliament – in those areas that really need them."
Mr. Jenrik, who was fired Boris Johnson in September 2021, expressed concern that the number of houses built in the first year of the prime minister's tenure would become a "high mark" for "several years ahead".
"We have to build these houses because we are letting down hundreds of thousands of our fellow citizens. Today people are homeless because we cannot build these houses," Jenrik told MPs.
"The fair desire of young people to climb the housing ladder is neglected because we do not build these houses.
"If I had to guess, I would say that the number of houses we built in the first year of this administration under the Prime Minister and I, almost 250,000, would be the limit on the number of houses built in this country. for years to come, and that the government for 1 mile will miss its 300,000 homes a year.
"The only way we will return to 250,000 homes a year and exceed it is to agree together, on an inter-party basis, that this is not enough and that we need to build more and find ways to do it. ».
Read more:
Every major announcement in this year's Queen's speech
Speaking the next day, Raising the level of Secretary Michael Gove acknowledged that the government will not achieve its goal of building 300,000 new homes this year, but said changes in the planning process in England would lead to further developments in the future.
"I don't think we will achieve that goal this year," he told BBC Radio 4's Today program.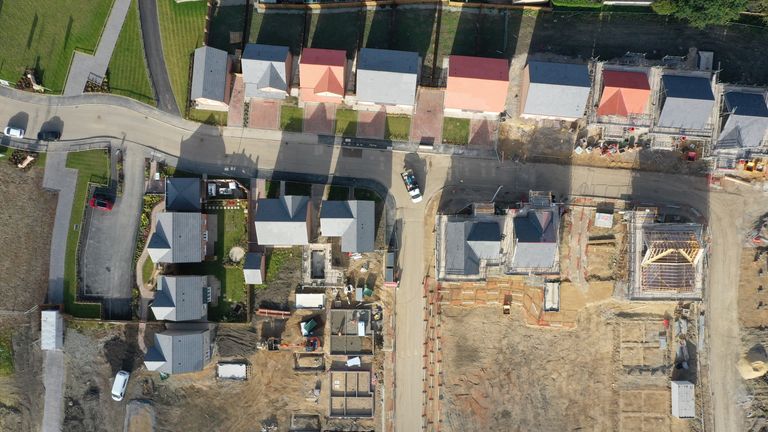 Asked whether the government will be more successful in achieving its goal of housing construction in the next couple of years, Mr Gove continued: "We will do our best to ensure that more proper homes are built in the right place. places.
"Because I don't want us to be tied to a Procrustean bed. I think it is very important that, even if we strive to improve housing, we also strive to build communities that people love and are proud of.
Focusing on whether the government will reach the target of 300,000 new homes by the middle of the decade, he said: "Well, we will do everything we can, but just achieve the target if the existing homes will not be a success." built poor quality, in the wrong place, do not have the necessary infrastructure and do not contribute to beautiful communities.
"Ultimately, when you're building a new home, you're not just trying to reach a statistical goal – I certainly don't."
The Secretary for Alignment added that "we are not bound, I am not bound by a single criterion when it comes to development."
But Downing Street later told reporters that the government is still committed to its goal of building 300,000 new homes a year.
"Our goal is to deliver 300,000 a year – the main thing in our mission to raise the level," said a spokesman for the Prime Minister.
Details of the new proposals are expected to be published later today as part of a bill to raise and regenerate.
https://news.sky.com/story/permission-for-house-extensions-could-be-voted-on-by-neighbours-under-new-planning-reforms-12610380