Leinster (15) 35
trying to:
Penny, Foley, Penalty Shootout, O'Loughlin
Cons:
X Byrne 2
Handles:
H Byrne 3
Münster (12) 25
trying to:
O'Donoghue, Haley, Murray
Cons:
Carbers 2
Handles:
Carbers 2
Basically Leinster's second team has secured a 10-point lead over Munster, who will now face Ulster in Belfast in the intriguing quarter-finals of the United Rugby Championship.
Already securing the best seed in the playoffs, Leinster ran out the well-deserved winners in Dublin with a victory with bonus points.
They will take Glasgow in the last eight.
As a result of the defeat Munster finishes the regular season in sixth place.
This is a very disappointing result for the team that came in that day, knowing that winning with bonus points over their interprofessional competitors – who were without their most famous names – would have seen them take second place.
However, now they will go north to Belfast, where they should try to defeat Ulster on their land, as in April.
Leinster head coach Leo Cullen has chosen a completely different starting XV from the side that ran past Toulouse to book his place in the Champions Cup final.
The depth of the eastern provincial squad is such that they were still able to field sides with considerable experience to match Munster's fully-fledged team, and it was the hosts who struck first when Scott Penny scored from Harry Byrne's field and scored a second-minute goal.
Munster, who knew that the defeat would not only lead to the fact that they will not take second place, but will be able to bring them out of the top four, responded well when Jack O'Donoghue cleverly finished in the corner.
They took the lead four minutes later when defender Mike Haley punched a crack on the edge of the river, but in the 22nd minute they came back when Cormac Foley scored his fourth attempt in a great opening in the 22nd minute when he received a pass from Kieran Froley a bright initial break by Jordan Larmore.
The suffocating nature of the first quarter may have caught up with both sides, as the next interval did not become much slower, a buggy period in which Munster's faulty exit continuously undermined their attempts to regain the lead.
They got reinforcements just a minute before the break when Rob Russell received a yellow card for intentional stuffing, which led to the hosts starting the second half with 14 men.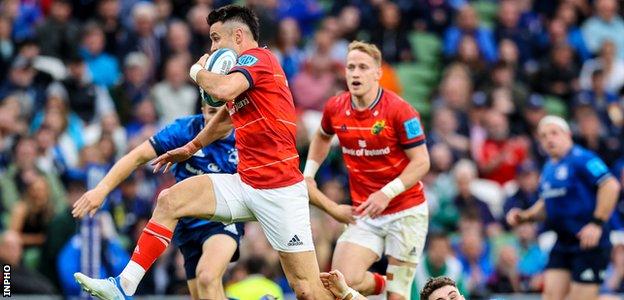 Less than a minute into the second period, Munster took advantage of their numerical advantage when Hailey led a fierce chase that forced Jamie Osborne to throw the ball into the air, and Conor Murray at hand grabbed the ball and scored.
Leinster, who are guaranteed to take first place before the final round of matches, chasing the fifth league title in a row, was not in the mood to lie against their interprovincial rivals and soon returned to Munster thanks to an inspired 50:22 from Foley.
From the final line Leinster set up a stab and rolled towards the Munster line when it was removed, forcing referee Frank Murphy to award a penalty and send prostitute Niall Scanel to the box for sins.
Soon a double blow to Munster was further exacerbated when Larmoor, enjoying a brilliant display from the full-back, slipped past several defenders again before the ball was held to Rory O'Loughlin, who threw the mannequin and finished.
Lagging behind by 10, Munster won a penalty on Leinster and decided to pick up the proposed points, stuffing the Carbers to reduce the gap to seven as they sought to break Leinster's lead instead of going into a corner in search of a fourth attempt. would provide a bonus point.
Gambling did not pay off, because instead of getting into the late pressure, they were again behind by 10 thanks to a long-range penalty by Harry Byrne in the 71st minute, which turned out to be the final points of the competition.
Leinster: Larmor; Russell, Osborne, Frowley, O'Loughlin; H Byrne, Foley; E. Byrne (Capital), Cronin, Clarkson, McCarthy, J. Murphy, Byrd, Penny, Degan.
Replacements: McKee, Dooley, Healy, Toner, Magpie, B. Murphy, Hawkshaw, A. Byrne.
Münster: Haley; Conway, Farrell, Gogin, Earls; Carberry, Murray; J. Wicherley, Scanel, Ryan, Klein, Ahern, F. Wicherley, Kendelen, O'Donoghue (Captain).
Replacements: Barron, Loughman, Knox, Jenkins, Daly, Patterson, Healy, Scanel.
https://www.bbc.co.uk/sport/rugby-union/61520297?at_medium=RSS&at_campaign=KARANGA