Novak Djokovic and Nick Kyrgios have come a long way from the frosty relationship of years past.
Ahead of St Wimbledon men's final, Kyrgios went so far as to call it a "bromance" – although Djokovic believes it drives him on.
"We definitely have a bit of a bromance now, which is amazing," said Kyrgios, the talented and sharp Australian in his first Grand Slam final.
"Everybody knows there's been no love lost for a while. I think it was good for the sport."
Speaking ahead of the final, Kyrgios added: "Now we actually DM each other on Instagram and stuff, it's really amazing. In fact, earlier in the week he said, "I hope to see you on Sunday."
Djokovic smiled when Kyrgios' comments were played back to him.
"I don't know if I can call it a bromance yet, but we definitely have a better relationship than we had before maybe January of this year," he said.
The thaw in their relationship began when Kyrgios was one of the few people to defend Djokovic when the 20-time Grand Slam champion was detained in Australia during a row over his vaccination status – and eventually deported.
"When I was having a really hard time in Australia, he was one of the few players who spoke publicly and supported me and stood by me," said Djokovic, who is hoping to win his seventh title at the All England Club.
"That's something I really appreciate. So I have a lot of respect for him for that."
In 2019, Kyrgios called Djokovic "pathetic", saying the former world No 1 Serb was obsessed with being liked.
He also said Djokovic was a player who rubbed him "the wrong way".
At the time, Djokovic said that while he respected Kyrgios' talent on the tennis court, he did not respect him off the court.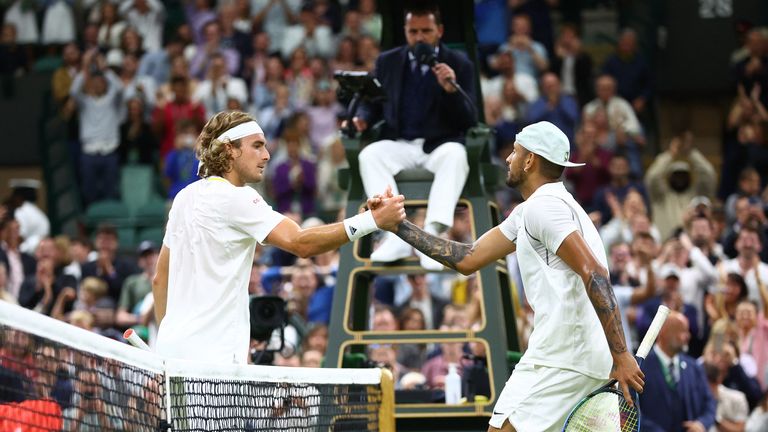 Now, the pair have been exchanging friendly messages on social media, including jokingly making plans to have dinner together after the finale.
On Instagram, Kyrgios asked: "Are we friends now?"
"If you invite me for a drink or dinner, I accept. PS: tomorrow's winner pays," replied Djokovic.
Kyrios replied, "Agreed, let's go to a nightclub and get crazy."
https://news.sky.com/story/wimbledon-finalists-novak-djokovic-and-nick-kyrgios-develop-unlikely-bromance-12649193