Britain has begun turning the first of around 10,000 Ukrainian recruits into front-line troops at four bases across England protected from Russian missile fire, it has emerged.
New troops, operating in groups of about 200, arrive daily from Ukraine to join a specially compressed training program offered by British soldiers. They will then return home to fight the Russian forces.
British commanders aim to have 2,400 recruits on the course at a time as they mobilize to meet the target of training 10,000 Ukrainian troops within 120 days.
With Ukraine losing up to 200 soldiers every 24 hours in the war with Russia, the ability to generate manpower is vital. It is "a replacement for battle casualties," said a senior officer.
Completing the training program in the UK gives recruits the opportunity to learn from British soldiers and, crucially, protects them from the threat of Russian attack.
One Ukrainian officer said an airstrike hit a Ukrainian training facility last month as several trainees were preparing to leave for Britain.
"We think so [a] The Russian military organization knew that we were preparing to go to the UK to study and train our soldiers, and that's why they launched an airstrike on our base," said the 26-year-old lieutenant, who wished to remain anonymous.
He was speaking at a military training camp in north-west England, where British soldiers are training around 600 recruits in basic infantry skills as part of a new training mission.
Read more:
Strike, Strike, Strike, Destroy: Russia's Terrible Tactics
What will happen in the Donbass, if Luhansk ceded to Russia?
Vladimir Putin's warning that Russia has barely begun its actions
The Ministry of Defense has asked Sky News and other news organizations to keep the location secret for security reasons.
Ben Wallace, the defense secretary and a potential contender to be the next prime minister, visited the site on Thursday to meet recruits and speak to commanders.
"Learning matters," he said in an interview during the trip.
"When you're at war and you're against Russia, you have to make sure you can be the best you can be, and that's the process we're doing here."
"Many new recruits have never touched a gun before"
He made it clear that Britain could offer to train even more than the target of 10,000 recruits.
"If Ukrainians ask for more, we will be open to more," Mr. Wallace said.
Asked how many more, he said, "We could do thousands and thousands."
With speed a priority, given that their country is at war, Ukrainian recruits are turning into foot soldiers at a much faster rate than any British recruit in peacetime.
It usually takes six months to complete basic infantry training for soldiers in the UK. Ukrainians are going to complete the course in a few weeks.
They are taught a number of skills, the most important being how to shoot straight, how to survive in the open, and how to treat blast and bullet wounds.
Many of the recruits, between the ages of 18 and 60, had never touched a gun before.
These were civilians who only in the last days and weeks decided to join the army. Most of the recruits were male, but one unit was said to be 20% female.
One of the new members was a 34-year-old e-commerce manager.
"I was sitting in my office, relaxing and drinking coffee, doing my routine all day, and everything changed on February 24," said the conscript, a father of one.
"It took time to make sure my family and loved ones were safe, but now I'm ready to stand up and do whatever it takes to protect everything I hold dear."
"Extraordinary Levels of Motivation"
British trainers said the Ukrainians' level of motivation was extraordinary, with the new troops working from 6am to 10.30pm every day, seven days a week.
Sky News watched as one group of trainees were instructed how to load AK rifles while another group took turns shooting at targets on the range.
British instructors, together with Ukrainian translators, gave the order to shoot at the cardboard cutouts of the soldiers, located approximately 200 meters from them on the field.
"Ready!" shouted one trainer as the recruits lay on the ground with their weapons drawn.
"Ten rounds, center target, fire at your own time!" said the coach, prompting the Ukrainians to squeal.
The other instructor said that initially their aim was pretty bad, but after a couple of days most of the shots – about 80% – were hitting the right spot.
"For these guys, it's the first time some of them have touched a weapon system, so I'd say they're either on par or getting there," said Corporal Philip Lourens, 28.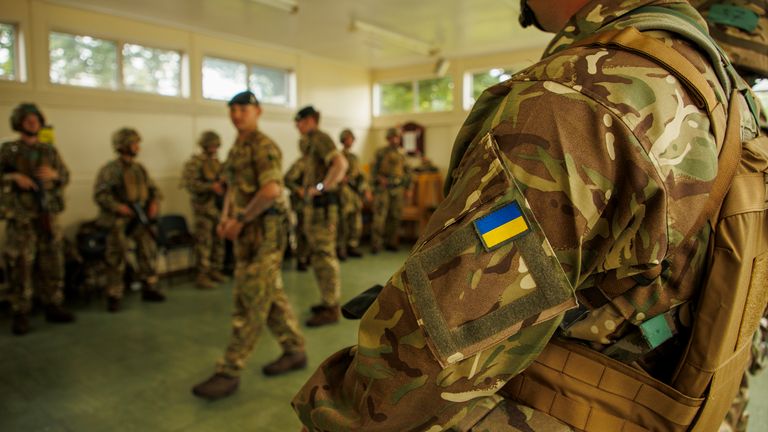 Like a number of instructors, he took part in a training mission Britain conducted for Ukrainian forces in Ukraine before Russia launched its full-scale war earlier this year.
The senior corporal made it clear that he would prefer to help Ukraine again, rather than remotely.
"One hundred percent," he said.
"Unfortunately, it's not up to me, but I'd like to go with them. We see them as brothers in arms here. We'd see them as brothers in arms anywhere."
The "survive to adapt" principle
The instructor to trainee ratio that the UK can offer is around 1:10 or 1:15 – much higher than what they would get in Ukraine.
The training is conducted by the 11th Security Force Assistance Brigade under the command of Brigadier General Justin Stenhouse.
He said it's important to train recruits to deal with the two main threats they will face on the front lines in Ukraine: Russian artillery and trench warfare. This meant the course was built around the principle of "survive to adapt", Brigadier Stenhouse said.
"So that in the first few weeks of the fight, they learn the offensive spirit as quickly as possible, and they can actually trust their basic training that we've got, that it will keep them alive and allow them to go into battle," he added.
https://news.sky.com/story/we-see-them-as-brothers-in-arms-here-uk-training-thousands-of-ukrainian-recruits-in-england-12648559