The winner of the Conservative leadership contest will be announced on September 5 – and some candidates could be knocked out of the race today.
Eleven Tory contenders have thrown their hat in the ring, but those without the support of 20 MPs will not appear in the first ballot, which is due to take place tomorrow.
The bar will be gradually raised, and candidates will need the support of 30 MPs to take part in Thursday's second vote.
Another vote could take place in the coming days if the number of applicants is not reduced quickly enough.
The two final candidates will then be presented to members of the Conservative Party, who will be able to choose their preferred leader by postal ballot.
Boris Johnson will remain as prime minister until the results are announced in early September.
Jacob Rees-Mogg has ruled himself out of the race for the Conservative leadership, while Home Secretary Priti Patel is expected to announce her intention to run.
Nominations open and close today, this means that time is of the essence for those who have not yet declared a leadership bid.
Former chancellor Rishi Sunak, who has sparked an avalanche of resignations with Sajid Javid, is leading by almost 40 supporters – which would be enough to see him through to a second vote on Thursday.
Trade policy minister Penny Mordaunt is also over the 20 MP threshold to be nominated, as is Tom Tugendhat, chairman of the foreign affairs select committee.
But just days after Mr Johnson announced his resignation last Thursday, there were warnings that the contest could turn sour as potential candidates floated plans to cut taxes.
Read more:
Who are the contenders for the position of the next prime minister?
Johnson is determined to deliver a winning mandate in the 2019 election in the final weeks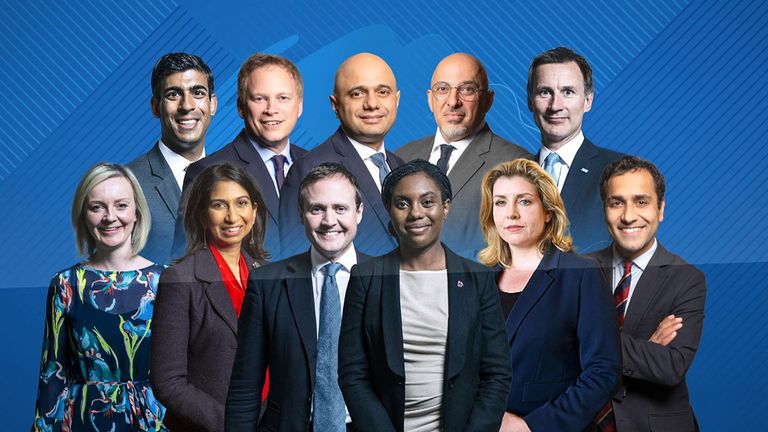 "This is not Game of Thrones"
Mr Javid described the current battle as "toxic" – and told rivals: "This is not a house of cards or a game of thrones".
Speaking in Westminster, he warned that the Tories risked "electoral oblivion" if they did not change and urged his colleagues to "come together".
He added: "I'm sorry to say that, looking at some of the press coverage over the weekend, it hasn't been our best start. Poisonous gossip, notes with attacks, accusations.
"It's not 'House of Cards' or 'Game of Thrones.' And people who are here just because they like the game are in the wrong place."
During the event, Mr Javid repeatedly dodged questions about his non-resident status before entering politics as he refused to say where he was based for tax purposes when asked if he used tax havens.
Tax plans attract close attention
Tax cuts have been a dominant theme for many Conservative leadership candidates.
Mr Javid has set out around £40bn of plans to scrap the rise in corporation tax and national insurance levy, which he has previously supported, and said he plans to cut income tax.
He said it would be paid for under the current budget margin and the government's "new efficiencies".
Foreign Secretary Liz Truss has promised to cut taxes "from day one" and scrap April's NI rise, while new chancellor Nadhim Zahavi has pledged to cut income tax in 2023 and 2024 and scrap green charges on energy bills for two years.
Attorney-General Suella Braverman said there was "no alternative but radical tax cuts" amid the cost-of-living crisis, while former Health and Foreign Affairs Secretary Jeremy Hunt said he wanted to "cut all taxes".
Labor leader Sir Keir Starmer said the Tories were ripping £200bn of unrated liabilities out of the "magic money tree" in a "fantasy economy arms race".
Former Tory chancellor Lord Lamont warned the leadership battle would turn into a "Dutch auction" and "unreasonable, irresponsible tax cuts" would lead to higher interest rates.
Mr Sunak, who starts his campaign on Tuesday, will outline his economic plan to "fight inflation, grow the economy and cut taxes" – once inflation is under control.
"We need a return to traditional conservative economic values ​​— and that means honesty and responsibility, not fairy tales," he will say.
Mr Johnson said he would not be endorsing either candidate because he "didn't want to hurt anyone's chances".
https://news.sky.com/story/date-new-pm-will-be-announced-revealed-some-tory-hopefuls-face-being-knocked-out-of-race-today-12650319