The Tories have a bit of an 'image vs reality' problem.
This is an issue that should dominate and divide them in the upcoming leadership contest. Simply put, there will be a lot of them talking about tax.
That's the reality the leadership contenders are grappling with: A party that wants to be seen as pro-low taxes, that campaigned on that ticket for decades, is now taxing us at the highest rate since the late 1940s.
And this is a very uncomfortable place for many of them, especially in the context of the deepening crisis of the cost of living.
Latest politics: Johnson's problems 'intractable', says Shapps, Hunt points to deputy
Very significant new taxes were indeed introduced under the Boris Johnson/Risha Sunak regime.
A 1.25% increase in National Insurance to fund the NHS, a rise in corporation tax over five years from 19-25% and a freeze in income tax thresholds which will attract more households to pay it, are just a few.
In fact the Institute for Fiscal Studies, a think tank on taxation and spending, recently commented that in just over a year Mr Sunak had introduced tax rises on a similar scale to those seen in Gordon Brown's 10 years as chancellor.
If you're a low-tax Tory, it hurts.
The argument for lower taxes is simple from an economic point of view. If struggling families can keep more of their money, not only will their pain be reduced, but they will be more likely to spend that money in the economy, which in turn will stimulate growth and prevent recession. which experts believe predicted what was to come.
It also makes political sense for conservatives and no doubt appeals to their base.
In recent months, there has certainly been a sense that Mr Sunak was not only aware, but uncomfortable, of being labeled a "high-tax chancellor".
That's why his latest economic announcements were peppered with tax cuts; for example, a move to the National Insurance threshold, a full tax exemption for a significant number of low-income families, a 5p cut in fuel duty and a promise to reduce income tax by the end of the parliament.
​​​​​​While some of this was considered progressive, benefiting mostly poor families, it did not change the big picture – we live under one of the highest tax regimes in decades.
But the former chancellor had pretty good reasons for raising taxes.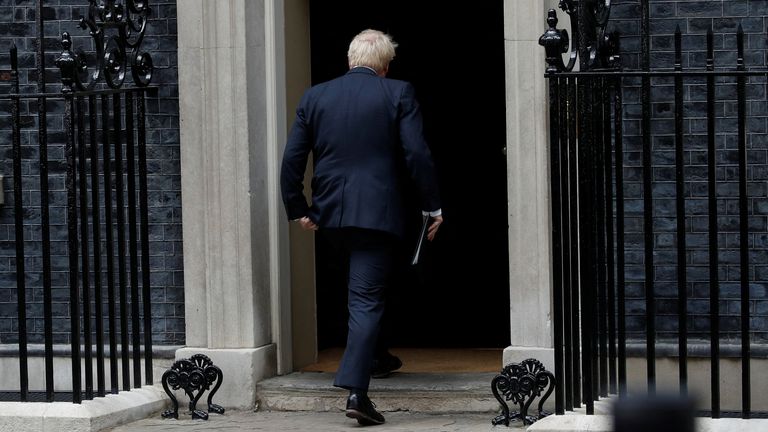 The inescapable reality, and background to the debate ahead, is that he has spent £400 billion more than he planned for in 2020.
The national debt is the worst since World War II.
With the cost of living crisis just as severe, and the NHS still faltering, the options to close this gap through spending cuts are frankly limited – taxes are the only real option.
It may seem like the worst of COVID is over, but the pain of paying for it is just beginning.
In fact, new OBR analysis has examined how the recent changes could affect the UK's long-term deficit.
It found that things like cuts to the public tax payer, net zero spending and welfare spending mean that the total debt in this country is around £37bn more than it was before the pandemic.
And £37 billion is a hell of a lot of money if you're going to cut taxes too.
Read more:
Who is the favorite to be the next prime minister?
Tax plans could decide who succeeds Boris Johnson as Conservative leader
The question, of course, is who benefits most from the tax cut and whether it is the right measure to help people during the current cost of living crisis.
A number of leadership contenders, for example, have promised to reverse the planned reduction in corporation tax (the basic tax that limited companies must pay).
It is the right measure when it comes to encouraging investment in the UK, but some argue that it is not an immediate help for families struggling to pay their bills.
A reversal in national insurance increases may prove more popular with voters, but recent changes to the threshold mean the poorest families will not pay this tax anyway, so the cuts will mostly benefit the middle class.
Stay tuned for the daily podcast Apple Podcasts,  Google Podcasts,  Spotify, Sprayer
There are many who argue that spending targeted at the most vulnerable would have a bigger impact right now, and many more who want to see NHS waiting times reduced.
The argument essentially boils down to an age-old economic debate: whether growth and prosperity, the way out of tough economic times, are best created by increasing government revenue and spending here and now, or whether such actions simply drive inflation and entrench debt and worsen problems on the following years.
This debate has played out before, not least after the 2008 economic crash. But the dividing lines then were mostly between Gordon Brown's Labor and David Cameron's Conservatives, remember the George Osborne/David Cameron 'cut the deficit' slogan?
This time, the argument seems to be to divide the Conservative Party from within. Is the party still a proponent of fiscal prudence, or has the unprecedented pandemic and cost-of-living crisis changed its tone?
Can it be the party of low taxes and smart deficit management at the same time?
And how much does the issue of "image vs. reality" matter to conservatives as they face one of the most serious economic challenges in generations?
https://news.sky.com/story/the-conservative-tax-problem-image-v-reality-as-potential-leaders-bid-to-boost-partys-appeal-12649326