Cases of COVID-19 are once again on the rise worldwide, largely due to the rise of the Omicron BA.5 variant of the virus, which is far more contagious than its predecessors and is able to bypass existing immunity in many people.
In the US, the Centers for Disease Control and Prevention this week released data showing that the BA.5 variant is now responsible for more than half of new cases and is poised to continue competing with older versions of the Omicron variant that remain in circulation.
The new variant is also making its way to other countries. America, Brazil and Mexico are on the rise. In Europe, cases are rising across the continent, including Germany, France, Italy, Spain and Greece, among others. The United Kingdom is also experiencing an upswing.
In Asia, cases are rising in Japan, South Korea and India, among others. Cases are also on the rise in Australia and New Zealand.
Erica Mancini, accordionist, poses before taking the stage, June 17, 2022, at Bohemian National Hall in New York. Mancini has suffered three COVID-19 infections, the most recent last May. Medical experts warn that we will see more multiple re-infections given how long the pandemic has lasted.
"Worst" option
Health experts warn that while the death rate from COVID-19 in the US remains low, the Omicron BA.5 variant remains a serious problem. Evidence suggests that recent prior infection with COVID-19 provides little or no protection against re-infection with the new variant.
During past waves, it was generally assumed that a person who recovered from an attack of COVID-19 would have enhanced immune protection against re-infection for a significant period of time.
"The Omicron BA.5 subvariant is the worst version of the virus we've seen," Dr. Eric Topol, of Scripps Research's Division of Molecular Medicine, wrote in his popular Substack newsletter. "It takes an already broad immune system to the next level and, as a function of that, increases transmissibility well beyond Omicron (BA.1) and other variants of the Omicron family that we've seen."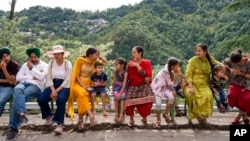 Tourists sit on public benches in Dharmsala, India, on June 17, 2022. Summer travel is starting around the world, but full recovery after two years of the coronavirus may take as long as the pandemic itself.
Although people are less likely to become seriously ill from the new variant, health experts say they are concerned about the possibility that more people will suffer long-term symptoms as the number of infections increases. So-called prolonged COVID, which can include fatigue, shortness of breath, cognitive dysfunction and other adverse health effects, has been found in one in five people who survive the infection.
Health care problem
The rising number of cases has public health experts deeply concerned about what will happen in the coming months.
"The public health position now must be to maximize vaccination, including boosters for those who are eligible, as well as primary vaccination and boosters for children," David Blumenthal, president of the Commonwealth Fund for Public Health, told VOA. "This is a very important, important first step in a public health campaign to reduce the impact of COVID. This should also include planning for a hopefully more specific vaccine in the fall against the Omicron variants."
FILE – Italy's Matteo Berrettini wears a mask during his men's singles quarterfinal match at the Wimbledon tennis championships in London, July 7, 2021. At Wimbledon, where no shots were required or testing, three of the top 20 seeded men withdrew from the first four days of action, because they contracted COVID-19.
Blumenthal said he believes the threat of lingering COVID means it also makes sense for people to continue wearing masks in public during outbreaks. However, he said he recognized that the call for more restrictions posed a major challenge for health officials, who will find themselves trying to convince a pandemic-weary public to embrace face masks again.
"I think community leaders — respected, non-medical leaders as well as personal physicians — are probably the best communicators at this point," he said.
USA in detail
In the 90 days ending July 6, the average number of daily cases in the US over the previous seven days rose to 106,193 from 34,795, according to data compiled by Johns Hopkins University. However, the actual number of cases is believed to be much higher, so that the prevalence of home testing means that most cases go unreported to health authorities.
The same data set shows that over the same 90-day period, the average number of people hospitalized for COVID-19 rose from 14,904 to 35,637. While this marked a significant increase in percentage terms, the absolute number of people currently hospitalized for the disease remains well below the 807,000 recorded at its peak in January.
The number of deaths from COVID-19 actually fell over the past 90 days, with a seven-day average of 309 on July 6, compared to 507 recorded 90 days earlier. The current death rate remains close to an all-time low since the start of the pandemic.
Masked passengers exit a subway station in Beijing's central business district on July 7, 2022.
China is changing direction
In China, Beijing this week became the first major city on the mainland to impose a vaccination requirement for visiting public places. From Monday, people will have to provide proof of vaccination to enter a wide range of public buildings in the city.
Back in September last year, the Chinese government was categorically against mandatory vaccination.
Wu Lianyu, a senior official at the National Health Commission, criticized municipalities that introduced requirements such as those that took effect in the capital and said all vaccination programs should remain voluntary.
Unlike many other countries, China has followed a so-called non-Covid pandemic approach. The government has imposed severe lockdowns across the country to slow or stop the spread of the disease.
The city of Xi'an, in the northwest of the country, is currently under lockdown due to a major outbreak caused by the new variant.
China was initially slow to roll out vaccines, even among the elderly, who remain most vulnerable to the disease. Now, however, data from Johns Hopkins shows that nearly 90% of the population is fully vaccinated.
It is not yet clear whether Beijing's decision to make vaccination mandatory for access to public places is the beginning of a move away from a lockdown-oriented policy of zero COVID.
http://www.unitedkingdomnews.net/news/272613647/as-covid-19-cases-rise-new-variant-poses-major-challenge