A decommissioned oil rig is to be transformed into an interactive art installation called 'See the Monster'.
The 450-tonne structure was brought to Weston-super-Mare beach in North Somerset after spending three decades in the North Sea and the last year in a Dutch shipyard being dismantled, cleaned and repaired.
When the project is complete, the 35m-high platform will feature a waterfall and amphitheater with seating, as well as a 6,000-piece art installation to give it "scale", and will be covered in grass, plants and trees.
The goal is to change perceptions of how aging industrial infrastructure should be disposed of, according to Newsubstance, the design company that came up with the idea.
The soon-to-be "rehabilitated" rig will be lifted onto its base at the city's Tropicana music and arts venue in the coming days.
It is planned to be put on its feet in the next six to eight weeks with a wild garden planted on top.
Newsubstance creative director and founder Patrick O'Mahony said: "We didn't want to build from scratch, we wanted to really explore reuse [materials].
"We wanted to bring him almost as a beast and turn him into a beauty.
"The fact is that he was, as it were, "rehabilitated" – he was taken out of the ground all his life, and now it's time to give it away."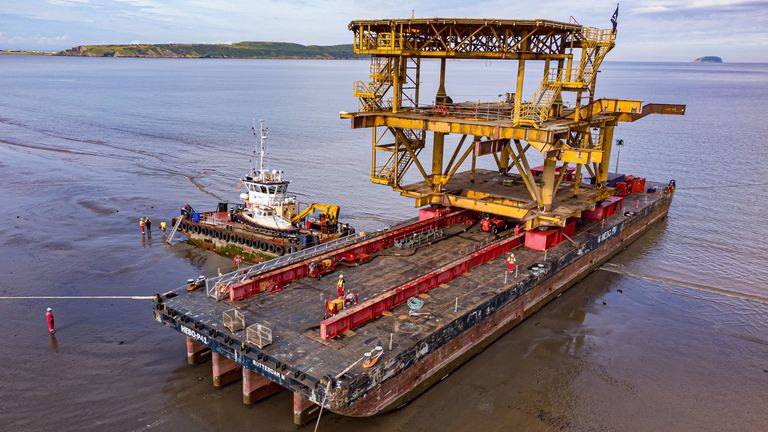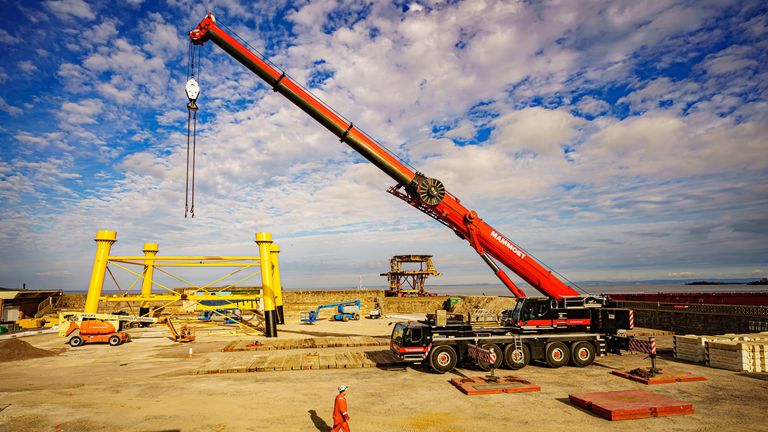 Despite the effort, it will only be open for two months, from August to October, before the artworks are installed across the city and the installation itself is deconstructed and reworked.
North Somerset housing and economy councilor Mark Cunniford said Weston-super-Mare was chosen for the installation from a "long list" of seaside towns.
He added that it was part of an effort to re-establish the town as one of Britain's great seaside destinations and that See Monster represented regeneration and rebirth.
https://news.sky.com/story/old-oil-rig-to-be-transformed-into-see-monster-art-installation-12651433